Published on 9 October 2018
At TIFF.17, the Kissinger Twins duo - formed by Katarzyna Kifert and Dawid Marcinkowski - held a workshop exploring the narrative formats produced and distributed through Instagram. They wanted to show that such an affordable application, installed on the phones of millions of people, may contain as much excitement as expensive production. An example would be @jacktorrancetrip, a movie you can discover by walking through posts.
For about 15 years, Kasia and David have been building stories in which the viewer becomes an actor and can push the script further, as in a video game. In Sufferrosa, the most complex film the Kissinger Twins have worked so far, the viewer wakes up in the face of a detective staring in the trail of a missing woman, locked up in a mysterious physician's clinic. During this trip he interacts with dozens of characters who can carry him or her to the truth. One of the biggest interactive projects ever made, Sufferosa has 110 scenes, 3 alternative finals and 25 actors. I talked with The Kissinger Twins about how difficult it is to mix literature with music and film and how to leave your ego aside and allow the user to build it instead.
Scena9: You said somewhere that, inside your team, "Dawid complicates things" and "Kasia simplifies them". What do these roles mean and how did you start working together?
Kasia: In terms of our background, we both graduated from Film and Art schools. Dawid graduated from Fine Arts department at UMK University in Torun and me from The Animation Department at Polish Film School in Łódź. After school I started working as a fashion photographer and suddenly - I think it was in 2002 - we started our collaboration.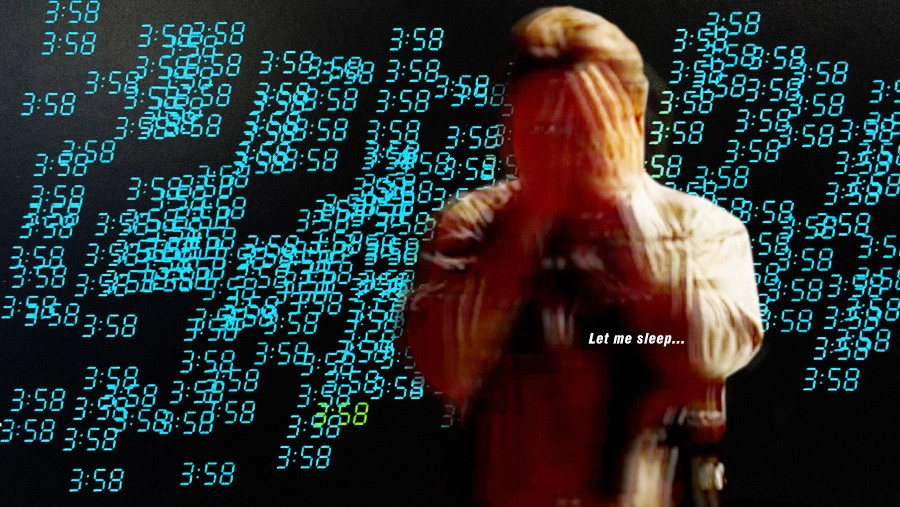 Dawid: At the beginning we made some interactive music videos and campaigns, like the one for Christopher Nolan's film "Insomnia". Back then Flash technology was changing the landscape of online creativity. You could finally make web-based project mixing animation, music, interactivity. It was all very new and exciting.
The most successful of our early projects was "Someday on The Misty Island", an interactive music video for a Polish opera singer, Małgorzata Walewska. She is a great person with punk rock background and a very inspiring. Małgorzata said, "Do whatever you want, just tie a story to my biggest opera characters: Carmen, Amneris or Ulrica". "Someday on The Misty Island" takes a challenge of how to make opera an exciting and meaningful experience for a younger generation. The project won Best European Online Project at Europrix Festival in Vienna in 2004.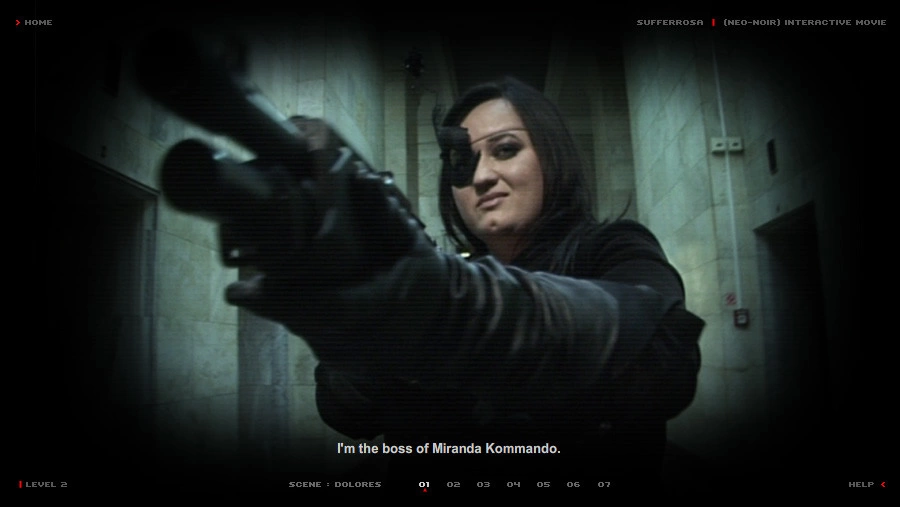 After finishing "Someday on The Misty Island" we began thinking about a longer form. In 2005 we started working on our biggest interactive film Sufferrosa. Thematically, Sufferrosa is a satire on the obsession on youth and beauty in the modern world. It is a huge non-commercial artistic project with almost 200 people around the world involved on different stages of production. We were lucky to meet (and work with) so many fantastic people - great actors, cinematographers, fashion designers, developers. From legends of Polish film industry, such as Beata Tyszkiewcz and Ryszard Ronczewski to bands like Sonic Youth and Glass Candy. We started with something small and after three years of work we found it was almost too big to finish. We managed to finish Sufferrosa in 2010.
K.: But the question referred more to the roles.
D.: Yes, I complicate. (Laughing) We work together on every single step of the project. We write and direct together. Sometimes I come up with the idea and Kasia develops it. Sometimes it's the opposite. We have similar taste, we love the 1940-1980s cinema, great European cinematographers like Vilmos Zsigmond, directors such as Luis Buñuel, David Lynch, Alan Pakula or Brian De Palma. Kasia has a great experience as a photographer and I have a bit more in a digital field, because of my work as an interactive creative director in advertising. However, after all those years of working together, Kasia has a great experience too. She usually simplifies interfaces, makes them look smoother and cleaner… and nicer.
K.: We work together, we direct all of our projects together and we love to mix our experiences.
D.: After 12 years of working together, we got married three years ago in Las Vegas.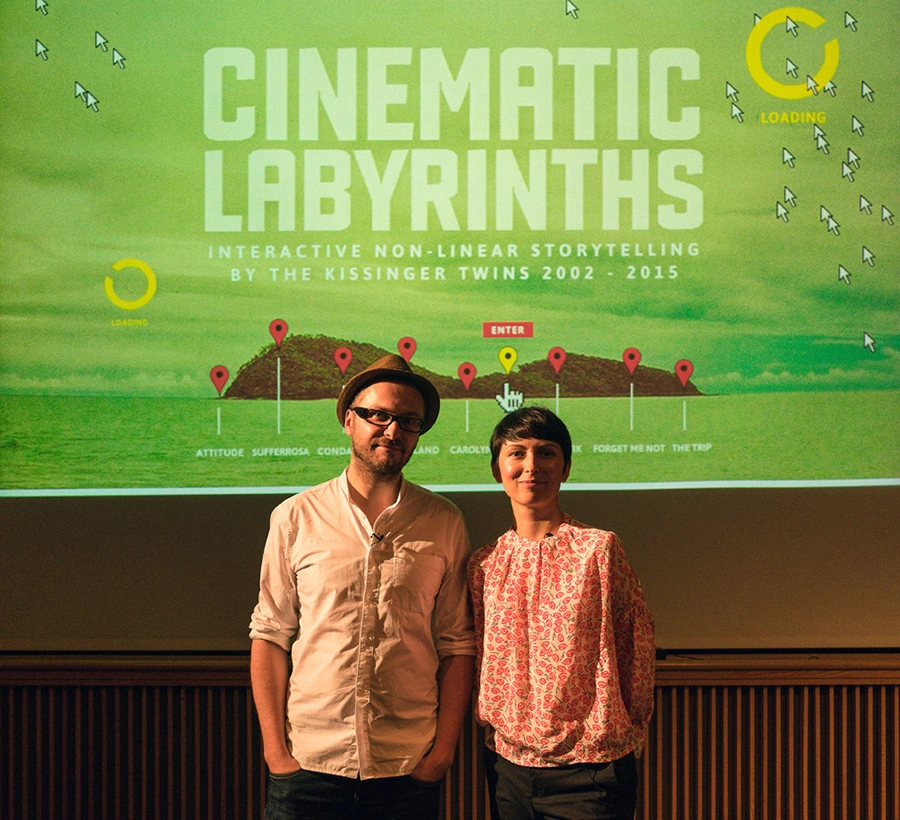 Why do you feel the need for interactive projects? Why this non-linear way of telling stories?
D.: When we started presenting our projects at film festivals around 2007, there was a bit hostile attitude towards interactivity in a film industry. Some directors said that interactivity in a film makes no sense, that "cinema is cinema", "why interactivity?" etc, but we are living in the era so different than previous generation. Life is more non-linear and faster than it used to be. So many things are happening at the same time, and we want to be an active part of it all. We think that making films and projects interactive, giving freedom of choice and navigation to our users is close to the spirit of our times. It is more relevant than just sitting and watching.
K.: We like to mix literature, music, photography, video with interactivity. When we started it was risky to go this way…. we didn't want to play safe and direct linear films. It is great to see more people working in the field of interactive storytelling, including VR. In the past, we wonder why there are so few people interested in experimenting in a space between film, literature, and web. We live in the middle of a digital revolution, there should be many more interesting stories and projects. Still, compared to the number of people working in the film or video games industry it is a niche. We suppose that it will change soon with a new generation that has been
immersed in technology since they were kids.
One answer to your question about why not many other people are doing that is that probably it's not easy to do it. It's not the most simple way to tell a story, to actually do it.
K.: Yes, it is true. Most of our projects have parallel storylines. Every single piece of the story is important because it might be the one which user will see and not see any another. In an interactive, non-linear project you have to create more footage and stories than in a linear film. The short attention span is a problem too. Finally you have to test every project a lot, and then the update of a browser or software can break it anytime... The whole process might be quite frustrating ;-) On the other hand it is very rewarding, especially when you see people truly engaged - you have a feeling that you create something new.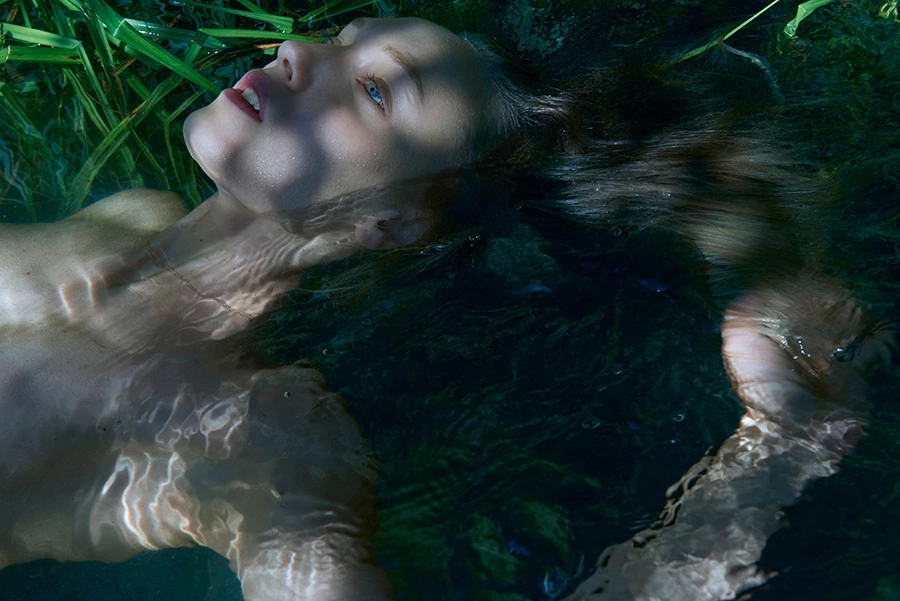 Where is your public coming from?
D.: It is a global audience of people interested in interactive storytelling, design, narrative art, video poetry, avant-garde cinema, video games and even some scientists.
K: And of course people from advertising and film industry too.

Is there a particular set of stories that are suitable for this environment?
K.: Some genres work better than the other, particularly mystery or noir detective stories, road movies, thrillers, and documentaries of course. There are a lot of amazing interactive documentaries too. Guys from National Film Board of Canada https://www.nfb.ca/interactive/ did a really great job investing and promoting that genre to the world.
D.: The crucial question is always what interactivity adds to the story? Does it make sense to add interactivity to the story at all? We think it doesn't make sense to add interactivity just for the sake of it.
In this type of stories, the ego of the creator is a bit smaller because he doesn't get to actually the creator leaves a crucial role for the user. How does that change things for you?
K.: As the authors we build the context of the the project, and then users decide what is interesting for them and how much of the story they want to discover. We create storytelling space and let our audience in. We like to think of the user as is an editor.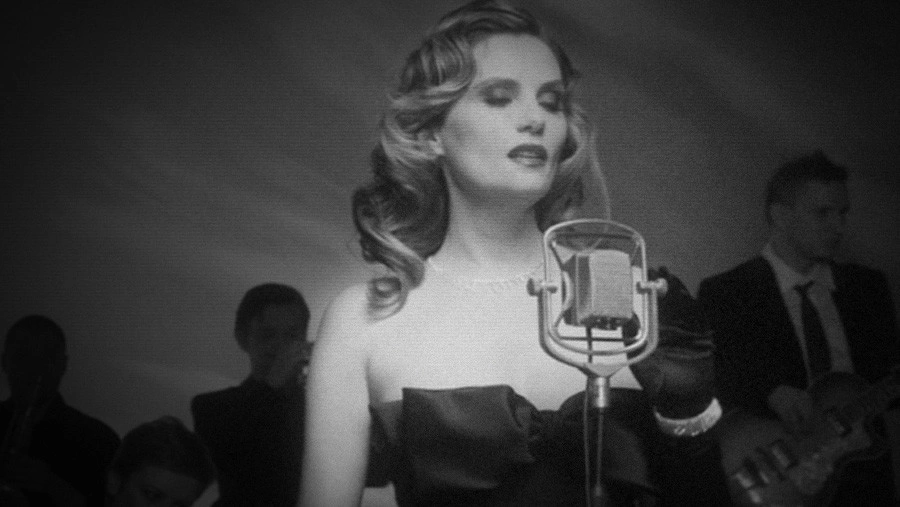 In the same time, from the public's perspective, it requires them to want to be involved in this story. It's a revolution from this point of view: in the case of the classical cinema, I'm going to a movie just to sit and relax and let the story go on. Do you feel this is a problem or this is an advantage for your environment?
D.: Definitely, this is an advantage and it is true that in some way it is a revolution. Most of the people still enjoy the passive approach and it absolutely fine. Interactive storytelling is different because without users' interaction there is no story at all. In our projects, we give our audience a freedom of navigation. It is you vs. the project. We even call our philosophy "Cinematic Labyrinths", which means that the users have many different paths through the story. We think that a little bit like in real life wandering through the maze is more important than the ending. ;-)
How do you see the future of this environment? Do you see it as an alternative to classical cinema or more as a niche?
D.: Jean-Luc Godard once said "A story should have a beginning, a middle, and an end, but not necessarily in that order." It's never been more relevant than now. The classic cinema will not be overtaken by the interactive media for a while. However the role of the active audience will grow, there will be more and more interactivity (think VR and AR) everywhere. It's very exciting to work in that field because it's still such an early stage, it is a bit like we're in the silent cinema period and developing the whole new language. We all have to experiment and learn to make things super-simple for the audience. Simplicity is the key.
K.: The intersection between video games and cinematic storytelling looks very exciting. I'm not talking about interactive film genre, as we know it from the 1990s. I'd rather think about how can we use video games to tell more complex and cinematic stories. Think "Kentucky Route Zero" "Firewatch", "Everybody's Gone to the Rapture" or "Dear Esther". These titles are very intriguing, and partly they're a reason why we started working on our two video games this year.
D.: We should mention "Device 6" too.
K.: It doesn't matter if it's a classic film, interactive experience or a video game, the story is most important.
Starting from your Infinitiff workshop on Instagram stories, I would ask you why do you feel attracted to Instagram?
D.: Recently we've been working in Cinematic Virtual Reality quite a lot. It is a great, immersive medium, but it cuts you off the world and needs technology and time. That's why we decided to make something simpler in a different visual medium, which is less tech and available for everyone. What is that medium? Instagram.
K: On the occasion of our lectures at NYU Tisch School of The Arts, we made a project @jacktorrancetrip for students just to show a storytelling potential of Instagram. You can watch a trailer here. Then Erwin Schmidt invited us to InfiniTIFF to lead the workshop "Stories on Instagram". It was a great experience on both professional and emotional level. We met an amazing group of people who made a collection of projects pushing the boundaries of what's possible on Instagram.
D.: From a poetic love affair @intimitiff, a surreal animation @infinitiff_machine, or a cool 1 minute short film @no_infinitiff to a documentary on Cluj Cinema Spaces @cinemaspaces and interesting take on Instagram journalism @aperitiff.infinitiff and @cluj_complementaire. We even had a musical project @matheea4infinitiff. Everything during four days. That's very impressive. You can check them all @infiniTIFFstories. This is a kind of instant storytelling that you can experience in one or two minutes bursts. No headset required ;-) We'll keep working with workshop participants on @infiniTIFFstories and transform it into a magazine on interactive storytelling on Instagram. Who knows maybe we'll come back to TIFF next year to make the second edition of the workshop. Don't forget to follow us!
Can you give me an example of a nice use of Instagram?
D.: Of course, here is a couple of our favourite ones:

You're doing both commercial projects and personal projects. How do you keep a balance between these two?
D.: Sometimes we work more on commercial projects, sometimes we focus more on artistic ones, keeping the balance between those two fields is crucial for us. The personal projects are more experimental and adventurous. They are a kind of a creative playground where we play with new ideas and technologies. Some of them bring us commercial jobs. For example, after winning Webby Awards with "The Trip", our project about the moon landing conspiracy, we directed a teaser campaign for a hit-series, Utopia2 for Channel 4. Thematically those projects were similar: surveillance, media manipulation...it was one of our greatest collaborations.
I found an interview in which someone asked you about future projects and you mentioned an erotic film. Is still a plan?
K.: It's a work in progress. We hope to make it one day ;-)